USDA Farm Service Agency Crop Acreage Reports Due by September 30th!
To participate in many USDA programs, including disaster assistance programs like ELAP, you must meet with your local Farm Service Agency and file timely Crop Acreage reports.
What is ELAP?
USDA Farm Service Agency's Emergency Assistance for Livestock, Honey Bees, and Farm-raised Fish (ELAP) provides financial relief to aquaculture producers for feed and crop losses caused by eligible natural disasters. ELAP does not require a fee for coverage, however, you must apply for and maintain eligibility.
ELAP Claims Process

To ensure you, as a farmer, are eligible for ELAP it is important to follow these key steps.
Meet with your local FSA office and submit initial ELAP paperwork.
File your Crop Acreage Report by Sept 30 every year or you will NOT be eligible for claims the following year.
File a Notice of Loss within 30-days of mortality event caused by natural disasters.
Maintain good production and sales data. If a claim is denied, data can aide in Appeals and fair market valuation.
Identify experts that can speak knowledgeably about your systems, species mortality rates and pricing. Contact NAA for help!
Farm Service Agency TIPS from NAA
Learn about FSA financial and environmental programs; some might benefit your farm. Visit offices.usda.gov to locate your FSA office.
Educate FSA staff about your production practices and the local aquaculture industry. Staff receive little training about aquaculture and may not understand how your farm operates.
Volunteer to be on a County or State Committee. Aquaculture representation is greatly needed!
Engage with NAA about your FSA or ELAP experience. We are diligently coordinating with FSA administrators to improve FSA's aquaculture programs for farmers. Contact us if you have any questions or experiences to share. Your experiences can help inform national level discussions!
ELAP Fact Sheet for Aquaculture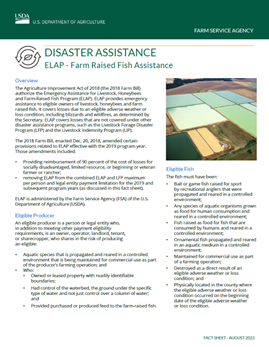 Locate Your Nearest USDA Service Center
Farm Service Agency has a thorough ELAP webinar available describing eligibility, annual acreage reporting, general application process and required livestock loss documentation.